Bienvenue!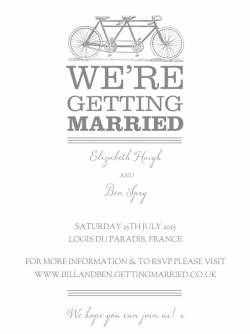 **UPDATE**

The time is almost here, it's too late to change our minds (!) so we've updated some of the pages with information you might find useful.

Please see the Wedding Details, Transport & Travel and Gifts pages for updated information.

We're both really looking forward to seeing you all and can't believe it's almost time for our wedding!!!!!
We hope you enjoy the build up to your holidays and that you have a great time once you get there.

Contact us:
Elizabeth - 07809 636786
Ben - 07791 250605

Emergency contacts:
Best men - Joe Spry (07717 418373) & James Weeks (07734 824 926)
Venue hosts - Sally, Edgar or Lucy - +33 (0)5 45 35 39 43

___________________________________________________________

Because your love and friendship have made us who we are and because you enjoy being fed, getting drunk and dancing like idiots as much as we do...

Together with our families, we invite you to join us in celebrating our marriage!

We hope you find everything you need on this site, from timings and places to stay, to how to get there and opportunities to share travel arrangements with other guests.